Grandmaster Chef JoJo is back with a brand-new season of This Is Fire. Like last season, Chef JoJo has hand-picked eight OnlyFans creators to compete head-to-head in his kitchen to see who can deliver the tastiest dish in 30 minutes. The stakes are twice as high now because in season two, the champion will be going home with $20,000 cash.
Tune in to OFTV each week to find out who stays, who goes, and who walks away with the grand prize and the title of This Is Fire Champion. Each week, we'll be recapping everything that goes down on This Is Fire: season two.
Warning: spoilers ahead.
Kylie Rae Hall and Nathan Webb kick off a brand-new season with their takes on one of the world's oldest dishes: kebabs. As one of his personal favorite meals to prepare, Chef JoJo knows exactly what he's looking for: fresh vegetables, herby aromatics, and tart greek yogurt sauce.
While Kylie and Nathan both describe themselves as above-average home cooks, this will be the first time their cooking will be judged by a culinary master like Chef JoJo.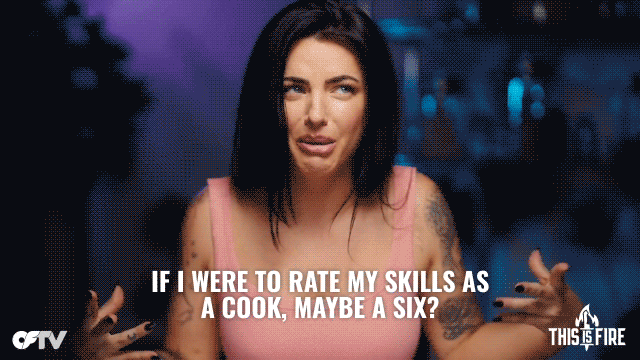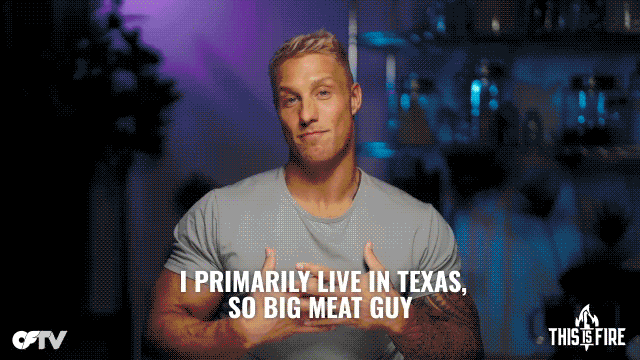 As the clock starts ticking, Kylie and Nathan spring into action. Inexperienced in preparing red meat, Kylie's nerves threaten to derail her progress early on.
Nathan, a Texan, is totally at home cooking any kind of meat. Steak kebabs shouldn't be a problem for him.
Despite his early confidence, Nathan hits a snag when he struggles with preparing a proper Middle Eastern hummus. After nearly blending plastic into his beans, Nathan scraps the hummus all together and opts instead to make a guacamole to serve alongside his kebab.
Meanwhile, Kylie presses forward with a side dish she's more comfortable creating– salad.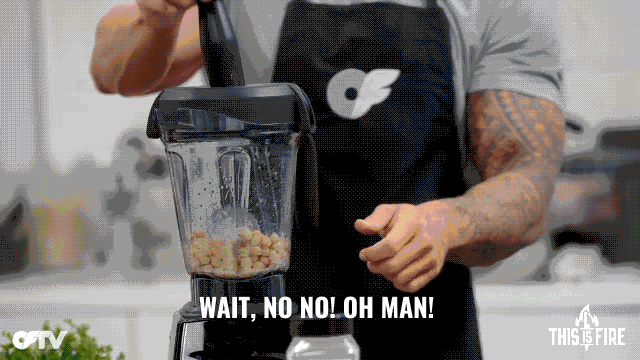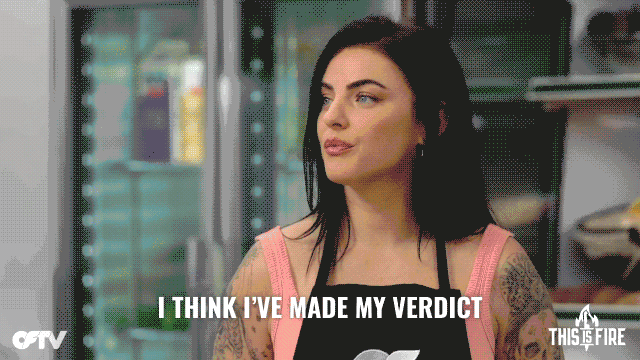 During the final tasting, Chef JoJo praises Kylie for having prepared the more traditional Mediterranean side dish. Unfortunately, her salad needed more salt and her kebabs were a bit dry.
Nathan, on the other hand, impresses Chef JoJo with his perfectly-cooked steak and sends him on to compete in the semifinals.
Competitors Nikki Benz and Stevan Ditter join Chef JoJo in the kitchen to discover that they'll have thirty minutes to prepare fresh sea scallops, accompanied with fennel, cauliflower, and butternut squash.
While Stevan has considerably more cooking experience than Nikki (who orders in most of her meals), both contestants will have to take care not to overcook these delicate shellfish if they want a shot at the grand prize.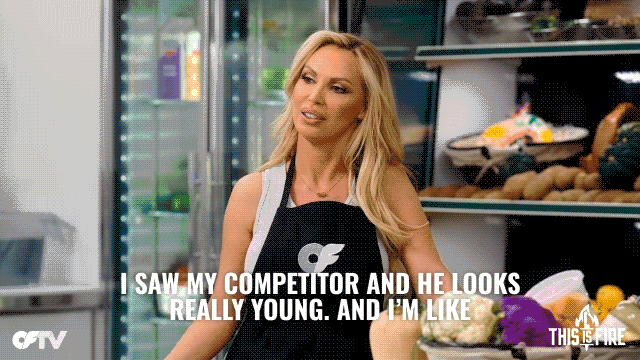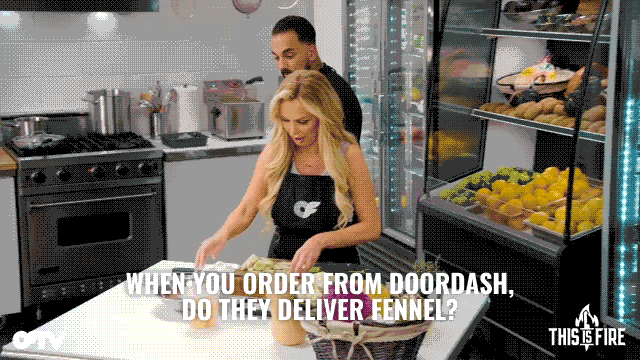 As Nikki and Stevan get to work, both home chefs admit to having no idea what fennel is. That aside, Chef JoJo can't help but be impressed with both of their chopping skills.
Fortunately, the competitors are much more familiar with how to prepare cauliflower. Stevan plans to cook his with simple oil, salt, and pepper. Nikki, however, begins pouring in the dairy for a heavier creamed cauliflower recipe.
Stevan is struck with some instant karma when he cuts his finger after teasing Nikki about needing help with her oven. He's only out of commission for a few minutes before returning to the kitchen with a bandaged hand.
After a couple more cooking mishaps from each of them, Nikki and Stevan finally seem to hit their strides. Stevan locks in on his scallops prepared two ways (sous vide and seared), while Nikki is sure her creamy cauliflower mash will dazzle Chef JoJo.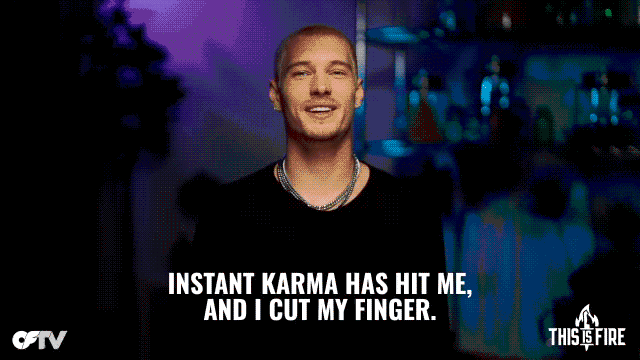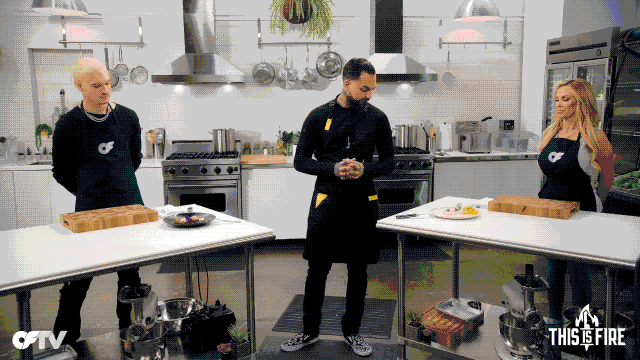 As the clock runs out, both competitors feel reasonably confident in their dishes' presentation. Nikki's creamy poached scallops have been cooked all the way through, and Stevan's vegetables are colorful and appealing.
Despite undercooking the butternut squash, Stevan's perfectly-textured sous vide scallops are enough to advance him to the next round.
Toochi and Emma Magnolia are in for a huge surprise when Chef JoJo announces they'll be going head-to-head to serve up a delicacy enjoyed all over the world: dumplings.
Toochi, a self-described foodie, may just have an advantage over her competition having just returned from a trip to east Asia. On the other hand, Emma's drive to not be eliminated in her first round might give her the focus she needs to win.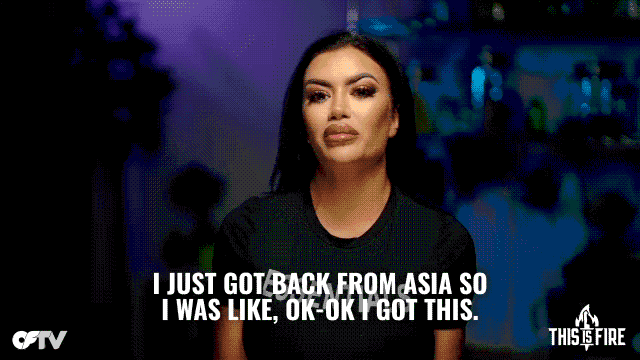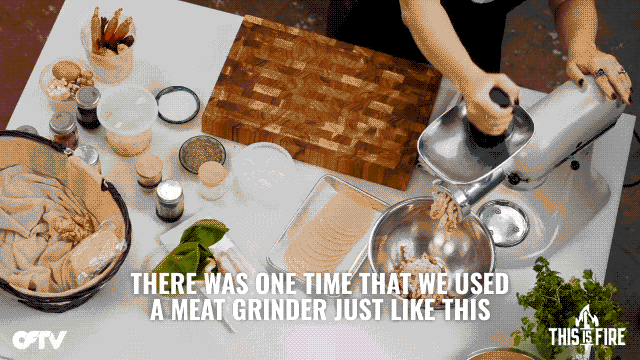 Toochi and Emma get straight to work preparing the fillings for their dumplings. Right away, Emma's confident that her signature "Crying Tiger" sauce will set her dish apart from Toochi's.
While Toochi flexes her experience preparing Chinese dumplings, Chef JoJo is impressed with how comfortable Emma is using the meat grinder. It turns out Emma used to work on a farm, and is no stranger to grinding up roadkill.  
Meanwhile, Toochi plans to impress Chef JoJo with her rebelliousness and will serve dumplings in a couple different "creative" ways. With a deconstructed "ramen" version and a fried vegan one, Toochi's dumplings promise to be anything but authentic.
Both contestants are taking big risks with their sauces. Toochi creates a ponzu and hot honey sauce that genuinely baffles Chef JoJo, and Emma doesn't stop pouring the sugar into her own sauce until she accidentally knocks it over.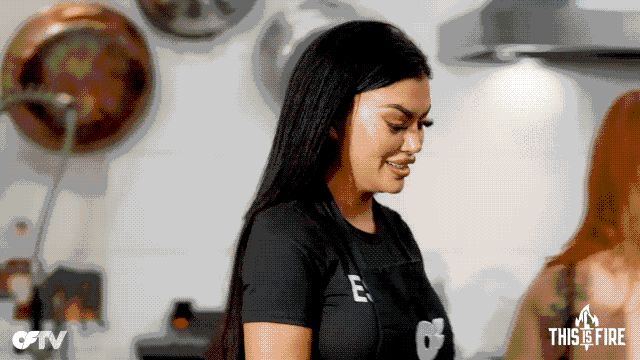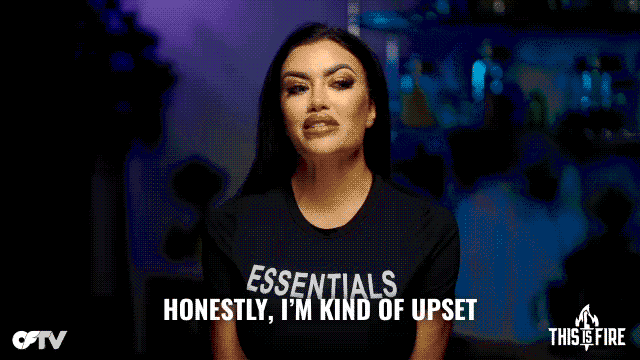 Toochi manages to have her entire dish plated and garnished with minutes to spare. Emma works up to the buzzer plating her dumplings. Both plates end up looking delicious.
In the end, Toochi would have been better off using her extra time cooking her pork. While her vegan fried dumplings were fine, the ramen-inspired pork dumplings were undercooked. It is an easy win for Emma, leaving Toochi feeling robbed by the whole experience. 
Chef JoJo welcomes Nala and Oliver Flynn to the kitchen, and announces that they'll be competing to make the tastiest version of a Mexican classic: enchiladas.
While neither Nala nor Oliver have cooked enchiladas at home, both contestants are confident in their abilities to pull off the dish. Nala is especially sure of not only her cooking skills, but her powers of persuasion.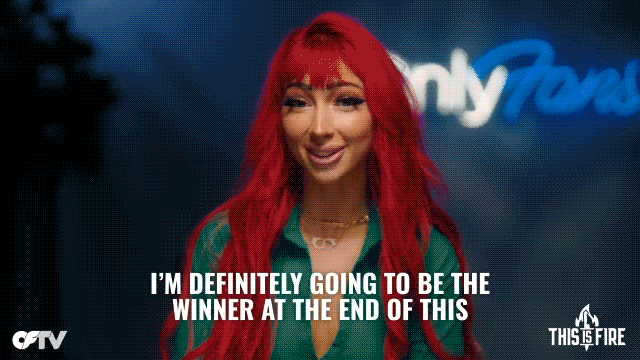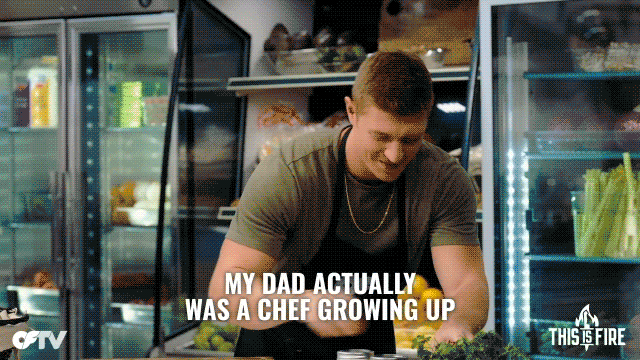 Nala and Oliver get to work on their enchiladas and both instantly impress Chef JoJo with their efficiency in the kitchen.
Shortly into the cook, Oliver reveals a bombshell that almost knocks Nala off her game: he's had 12 years of kitchen experience working for his father, a professional chef.
Things turn again in Nala's favor when Oliver realizes a massive oversight in time management: he's forgotten to prepare a side dish.
With only five minutes remaining on the clock, an overwhelmed Oliver scrambles to whip up a homemade guacamole to serve with his enchiladas.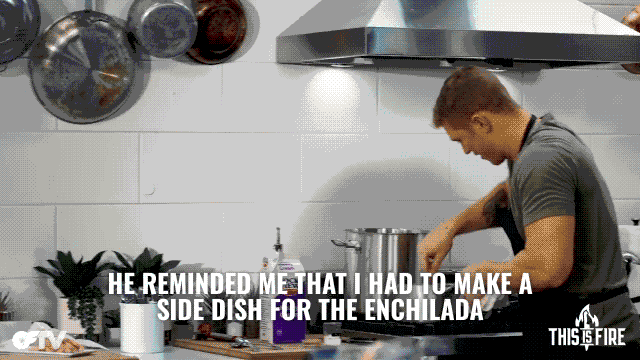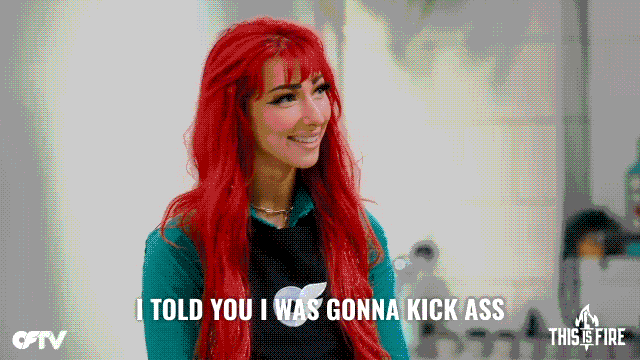 Fortunately, both chefs are able to get their dishes plated when the 30 minutes are up. Chef JoJo evaluates their very different chicken enchiladas: Nala's are served with a chickpea puree topped with fresh raspberry, while Oliver offers a side of guac.
After Chef JoJo digs into each plate, it's Nala's properly-soaked tortillas, tart cheese, and overall creativity that send her on to the next round. 
E5: Po'Boys (Semifinals I)
Air Date: February 9, 2023 | Watch on OFTV
Chef JoJo welcomes Nala and Emma Magnolia back to the kitchen for the first round of semi-finals. To avoid elimination, they'll need to serve up the best version of the New Orleans favorite: shrimp po'boys.
Despite the fact that neither Nala nor Emma have attempted po'boys in the past, Nala is confident that her Southern instincts won't let her down.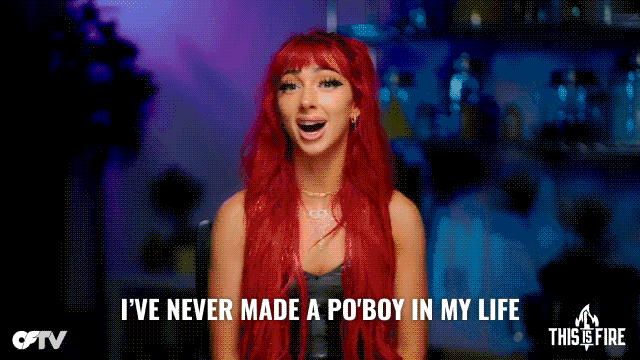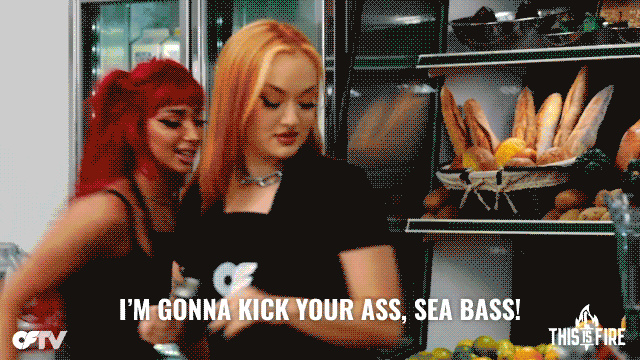 Once the clock starts ticking, Nala and Emma get straight to work preparing their dishes. Nala finds inspiration for her flavor choices from her rural childhood. Meanwhile, Emma concentrates on her prep work to avoid the mistakes she made last round. 
The energy in the kitchen is playful as the two work on their dishes. But their friendliness turns competitive when the two realize they'll both need to step up their plating game in order to move on to the finals.
Emma is forced to improvise quickly after her sauce is ruined in a mishap with the blender.  On the other side of the kitchen, Nala's tea sandwich-inspired po'boy is coming along according to plan, and her shrimp makes it into the fryer first. 
By the time Emma is ready to fry her shrimp, she's way behind schedule. But she doesn't hold that against Nala. In fact, she's happy to just have made a new friend in the kitchen.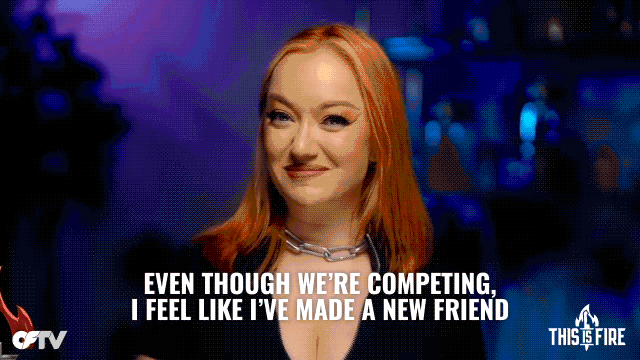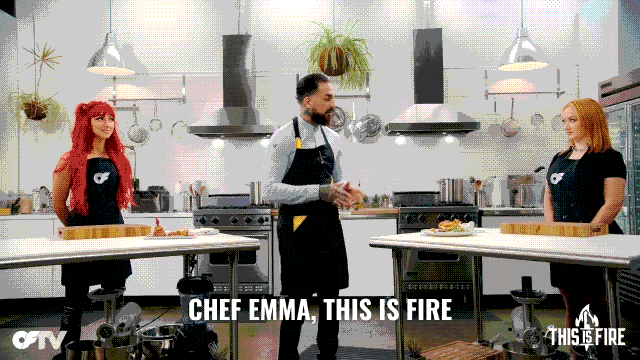 With some extra time on her hands, Nala scraps her first plating attempt and re-thinks her po'boy presentation. As the clock winds down, Emma manages to get all her ingredients on the plate, but isn't too thrilled with the results.
After deliberating, Chef JoJo surprises the kitchen when he tells Emma that her po'boy was fire. Although Nala's ambitious plating looked beautiful, her sriracha and peppercorn flavors overpowered the dish. Turns out, Emma's prep work and attention to detail paid off after all.
E6: Chicken Parm (Semifinals II)
Air Date: February 16, 2023 | Watch on OFTV
Stevan Ditter and Nathan Webb are back in the kitchen for the second half of the semifinals. To earn the last spot in the finals, the guys will be cooking up some good, old-fashioned chicken parm.
Immediately, Stevan is at a disadvantage having never even tried the dish, much less prepared it. That's great news for Nathan, who's set on defeating his pal Stevan at any cost.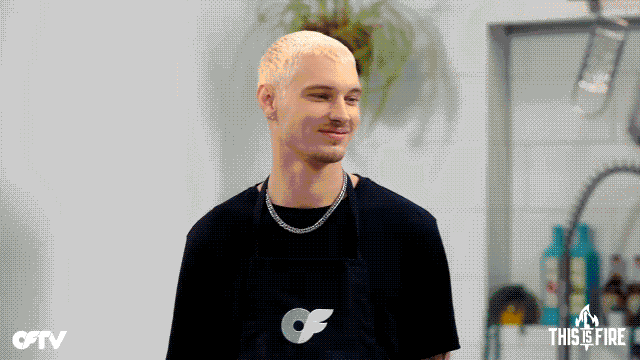 While Stevan worries about his lack of frying experience, Nathan feels confident in his ability to at least get the protein right. Nathan's hoping a simple stripped-down recipe will be enough to win the round.
Despite the fact that there's potentially $20,000 on the line, Stevan and Nathan can't help but take some time to roast each other while they roast their veggies. Even Chef JoJo joins in on the fun. 
Unfortunately, the guys' laid-back attitude starts to backfire and the clock ticks down. With only five minutes remaining, Stevan realizes he might not have enough time to boil his pasta.
Working in a frenzy up to the very last second, Stevan does manage to get something on his plate. Meanwhile, Nathan flexes his time management skills by leisurely washing his hands.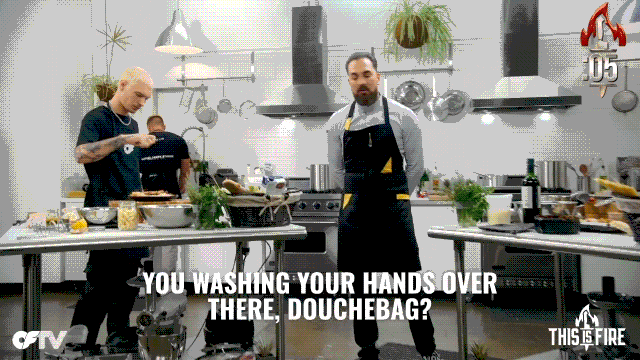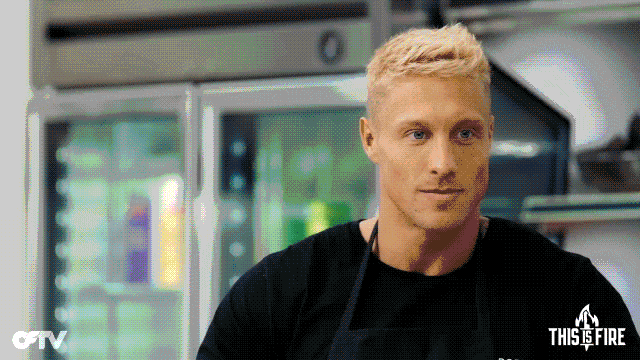 After a hilarious and tense challenge, Chef JoJo tries both dishes. He has his work cut out for him while he deliberates. Will he go for Nathan's simple, rustic chicken parm with its "Thor-sized" portions? Or will he choose Stevan's light, more farm-to-table style.
Despite his slightly dry chicken, Nathan's creative sauce was enough to edge out Stevan's undercooked potatoes. But Nathan will have to work on his meat preparation if he wants to beat Emma in the finals.
After a long night of studying recipes, finalists Emma Magnolia and Nathan Webb return to the kitchen for the finals. Both chefs know that they'll have to cook better than they ever have before in order to win the championship and the $20,000 cash prize. 
Unfortunately, neither contestant managed to study the menu for their final challenge: lamb, ricotta, and beets. In fact, Nathan doesn't even know what ricotta is.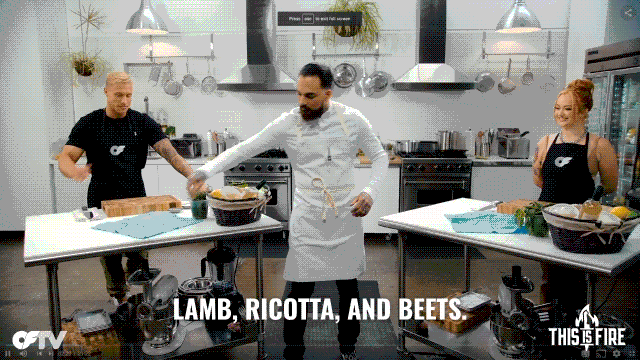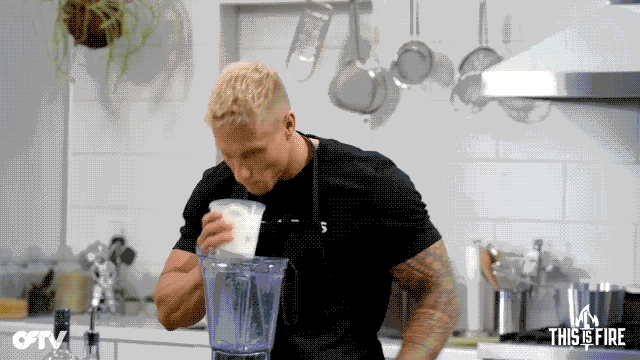 Chef JoJo starts the clock, sending Linda and Kazumi to work on their noodles. Linda opts to craft a rose-shaped mascarpone-filled ravioli stuffed with garlic butter sauce, while Kazumi goes for something a bit more classic: traditional Italian spaghetti noodles garnished with a little Sriracha oil twist.
As Kazumi overhears Linda explaining her high-concept dish, she starts to wonder if she's playing it too safe.
As the clock starts, Chef JoJo can't help but notice how calm and methodical both finalists are as they begin their prep work. It's clear these two are in it to win it, despite the fact that Emma doesn't have much experience with meat and Nathan is physically repulsed by ricotta.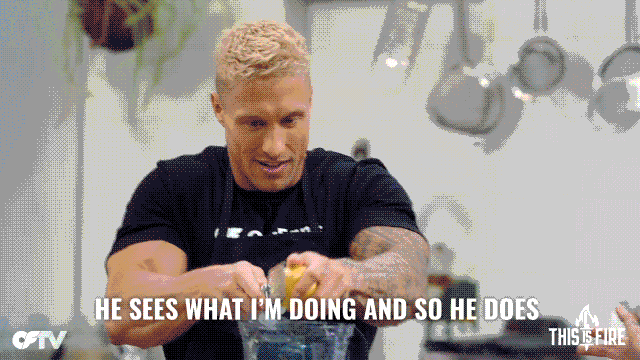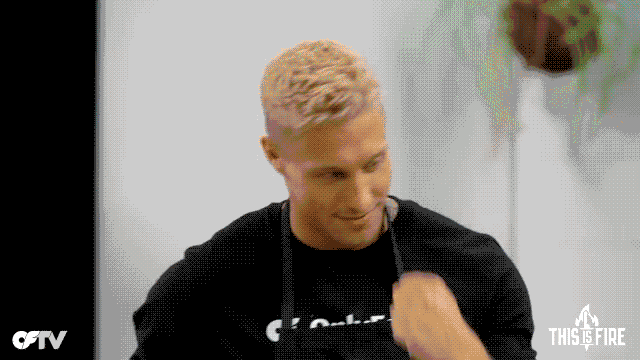 Further into the challenge, Emma calls Nathan out for downright copying her ricotta preparation.  In retaliation, Emma attempts to lead her opponent astray and suggests that he put sugar in the ricotta. 
But the competitors' bickering causes both of them to lose focus and make some rookie mistakes. In the crucial final moments of the challenge, Nathan realizes his meat is losing moisture and Emma completely forgets to plate the pan sauce she prepared for her lamb.
Keep up with all your favorite OFTV shows.
Did This Is Fire season two bring twice the heat? Sound off below!