OFTV's Miss/Match is back with an exciting new season, and host Antje Utgaard is ready to work her match-making magic. Just like last season, Antje will pair up two complete strangers, who also happen to be OnlyFans creators, for an afternoon of quizzes, challenges, and hot tub conversations. Tune in each week as Antje finds out if she's created a miss or a match, and check back here after every episode for a Miss/Match season two recap!
Warning: spoilers ahead.
S2E1: Kat Rose/Jaxon Rose
Air Date: August 11, 2023 | Watch on OFTV
Kat Rose, a Love Island alum, is looking to meet a "tall jokester" who can keep her laughing and entertained. And Kat means business about the height requirement– she's not messing with anyone under 5'11.
Enter Jaxon Rose, a rock musician (with a band and everything). Jaxon is looking to connect with someone with "a good face" and a cool, unpredictable personality.
Antje introduces a blindfolded Kat and Jaxon to one another and when the blindfolds come off, both like what they see.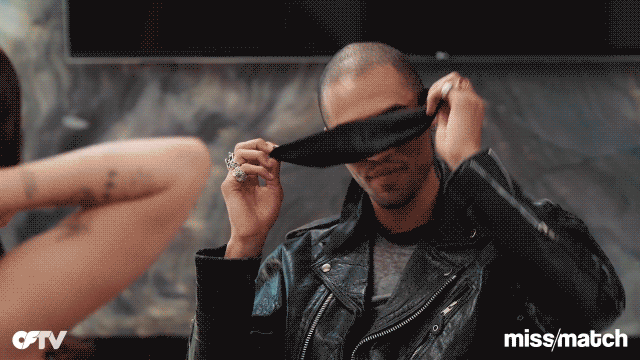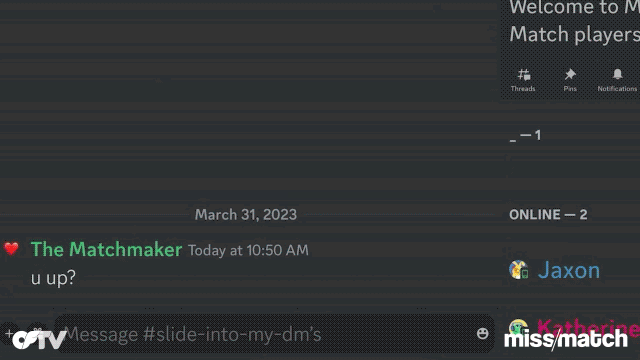 New for season two is the Pop Quiz round, where Antje asks the pair revealing questions right off the bat. Unfortunately, they get off to a rocky start when Kat admits to ghosting men often. Meanwhile, Jaxon values open communication above all.
However, things turn around after Kat mentions that loving dogs is a prerequisite for dating her. Turns out, Jaxon is both tall and dog-friendly enough for Kat.
In another all-new activity for season two, "Slide Into My DMs", Antje gives Kat and Jaxon the chance to get flirty in her DMs. Katherine goes first, replying to the classic, "u up?" with "for what? 😏".
Kat and Jaxon are eager to move on to the classic Miss/Match "Deeper Dive" round to chat star signs, art, and tattoos in the hot tub.
Kat can't help but swoon when Jaxon mentions he's the lead singer and guitarist in a band and Antje predicts Kat and Jaxon are a "Match".
Though the pair may not have fully opened up to each other yet, they both agree there was an instant connection.
On the balcony, Kat and Jaxon reveal their decisions… match. Afterwards, they exchange numbers to formally kick off what could be a long, romantic journey.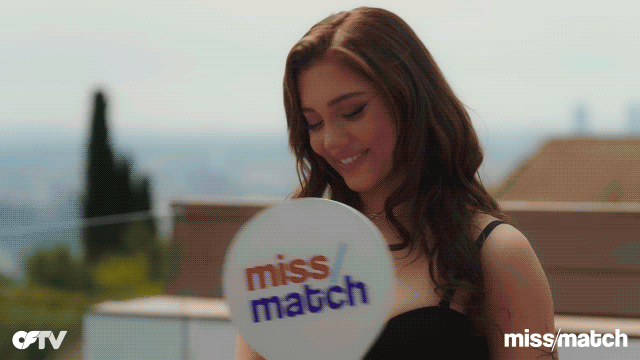 S2E2: Tony Lopez/Riley Murray
Air Date: August 18, 2023 | Watch on OFTV
Riley Murray is a globe-trotting model hoping to meet and fall in love with a tall, handsome man. Her potential match, viral TikTok dancer Tony Lopez, is just looking for someone who can bring something extra to a relationship.
When Tony and Riley first meet, blindfolded, Riley reaches out to feel Tony's face and even gives him a smell check.
Tony passes both tests with flying colors, and when the blindfolds come off Tony is struck by Riley's green eyes. Meanwhile, Riley immediately notices Tony's nice smile.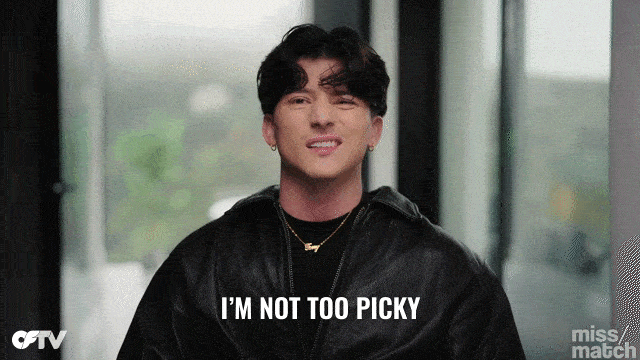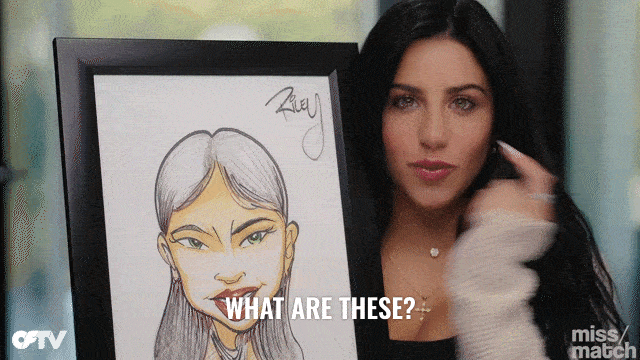 During the Pop Quiz, Tony and Riley continue to throw sparks after realizing they both love Fortnite and have similar expectations for dating.
However, Tony begins to worry that Riley isn't fully opening up to him. On the other hand, Riley's eager to learn more about Tony and what he does for fun.
Antje springs a new activity on the pair– Pictures of You. Here, Tony and Riley will have to describe one another (completely from memory) to a caricature artist.
Tony is able to describe Riley's eyes in great detail, but forgets key details about her hair and eyebrows. And when it's time for Riley to see her portrait, she's far from impressed.
Finally, it's time for Tony and Riley to head to the hot tub for the Deeper Dive so they can get to know each other better.
Tony opens up about his faith and spirituality, while Riley shares how much she cherishes and admires her mother.
These two have definitely found a great style of communication with one another and could probably chat all day if they wanted.
However, after an amazing afternoon together, Antje is shocked that both Tony and Riley are… a miss. But at least they are on the same page about it.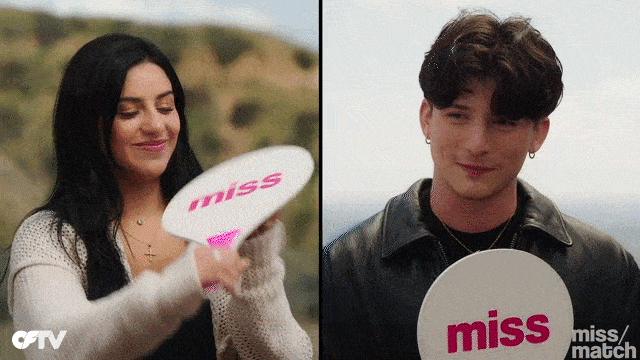 S2E3: Ballo/Mariah Casillas

Air Date: August 25, 2023 | Watch on OFTV
Ballo, a model who describes himself as "6'3" of pure steel and sex appeal", is pretty open-minded when it comes to dating. He takes his romantic life on a date by date basis.
However, Streamer Mariah Casillas knows exactly what she's looking for– a passionate man who's good with his hands, that can motivate her and make her laugh.
As the blindfolds come off, Mariah springs a shocking surprise on everyone. A friend of Mariah's has dated Ballo in the past, and thinks Mariah should "take him for a spin."
This is going to be an interesting afternoon.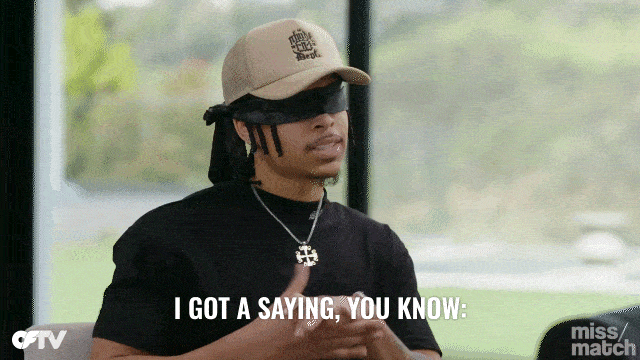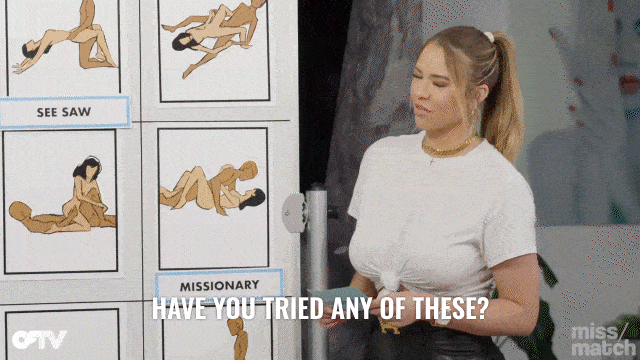 In the Pop Quiz round, Ballo and Mariah discover they're both homebodies with an interest in traveling.
Ballo and Mariah's chemistry hits an all-time high during "It Takes Two". Antje presents the pair with a corkboard filled with illustrations of 12 different sexual positions. Working as a pair, Ballo and Mariah must now match the names of the positions to the picture.
After starting with the common ones– missionary and doggy– the two breeze through the rest. That is until they're completely stumped by the "Viennese Oyster" (or as they pronounce it, "Van-essay Oyster").
After the extra-spicy It Takes Two, things between Ballo and Mariah heat up even more in the Deeper Dive.
Turns out, they're both dog lovers. Mariah's obsessed with her weiner dog and loves that Ballo is a proud "daddy" to two bulldogs. And that's music to Ballo's ears.
Things go downhill when Ballo mentions that eating sushi is a red flag for him. Ballo's red flag is instantly a huge red flag for Mariah who won't date anyonewho orders off the kids' menu.
For Ballo, Mariah is a match; however, Ballo's picky eating puts him in the miss category for Mariah. Maybe they'll hang out as friends one day, if they can agree on a restaurant.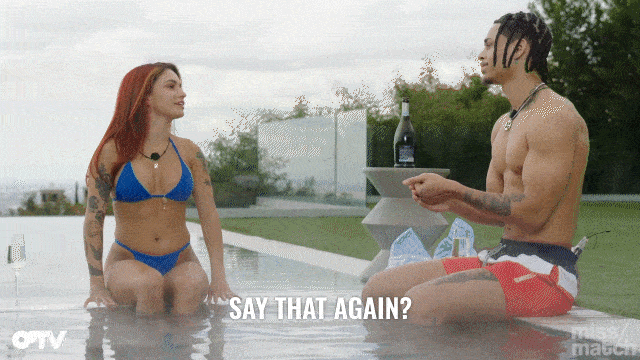 S2E4: Damian Powers/Lauren Blake

Air Date: Sept. 1, 2023 | Watch on OFTV
After making headlines for leaving his Love is Blind bride-to-be on the altar, Damian Powers is back looking for love on Miss/Match. Preferably, it will be somebody with a nice smile.
Lauren Blake is a model who wants someone who can keep up with her and sweep her off of her feet.
Before the blindfolds come off, the sparks between Damian and Lauren are hard to miss. Even Antje is caught off guard by how flirty these two are already.
And when the blindfolds are gone, Damian and Lauren are thrilled with what they see.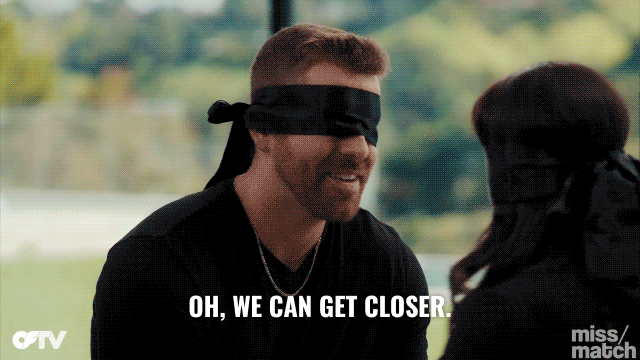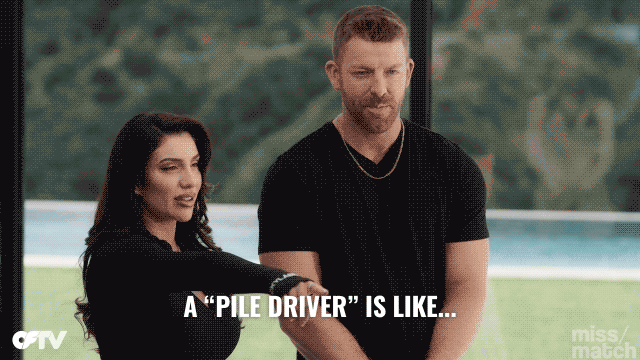 In the Pop Quiz, the pair find themselves agreeing on nearly every subject: camping, public displays of affection, even extraterrestrials. Damian and Lauren check each other's relationship boxes in nearly every way.
Obviously these two know how to flirt, but Lauren wants to get to know Damian even better. Good thing Antje has a game of It Takes Two ready for them to play.
Immediately, Lauren showcases her mastery of sexual positions. Damian definitely has a few things to learn from her; but the fact that he's open and curious is a huge green flag for Lauren.
Plus, they manage to get all 12 positions correct… a perfect score for what could be a perfect match.
Next, Damian and Lauren pop on their swimsuits for their Deeper Dive. After despite initial awkwardness (Damian isn't Laura's usual physical type) things start to heat up again.
Both Damian and Lauren are huge Marvel nerds and they bond over a shared love for CGI. When the conversation moves on to how Lauren studied as a biologist, Damian seems totally won over by Lauren's beauty and brains.
Antje predicts that the two will both select "Match". After all, they seem to have been hitting it off all afternoon.
When it's time for Damian and Lauren to reveal their final decisions, Antje is 100% correct. Maybe they'll see a superhero movie together.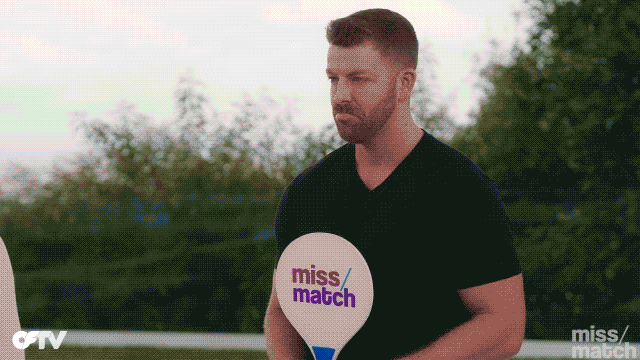 S2E5: Nathan Webb/Anthia Mo

Air Date: Sept. 8, 2023 | Watch on OFTV
Anthia Mo always thought she wanted to meet a nerdy guy who prefers to stay home curled up with a good book. But coming into Miss/Match, Anthia's keeping an open mind about her blind date, even if he is another OnlyFans creator.
Maybe her date (and This Is Fire winner) Nathan Webb can help give her some clarity about what she's looking for.
With the blindfolds on, Anthia and Nathan have a pleasant (albeit toned-down) chat about seafood and travel.
When Antje asks the two to guess what the other looks like, Anthia has Nathan pegged as tall and tan. Nathan guesses the same; however, he's in for quite the surprise.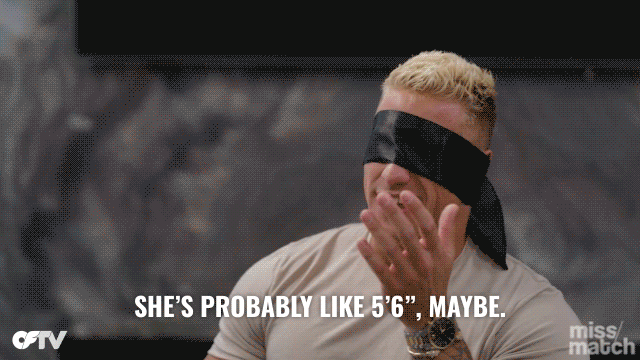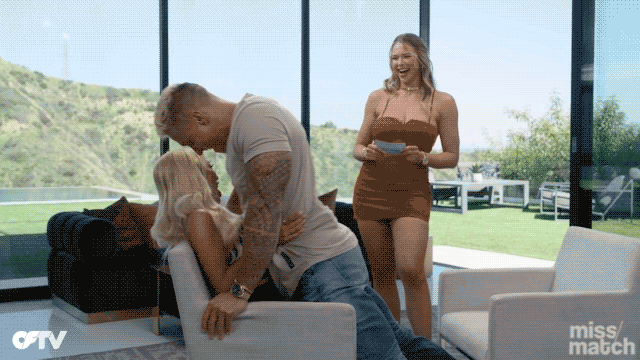 During the Pop Quiz, Anthia admits to needing a little breathing room early on in a relationship. But when Nathan reveals that he used to be a professional stripper, she asks him to get up close and personal to prove it.
Antje brings them outside for a brand new game: "Wood You Rather?" and right away Nathan confesses that he's prone to burping loudly in public and passing gas in private. It's far from romantic, but those are the rules of the game.
Fortunately, the two bounce back quickly as they move along through the rest of the questions. Nathan's even charmed by Anthia's completely over-the-top reaction to a bee.
During their Deeper Dive, Nathan opens up about his experience as a father which Anthia seems to appreciate. Similarly, Anthia doesn't hold it against him when Nathan admits to having been unfaithful in his past relationships.
And since Nathan was such a good sport about showing off his stripper moves, Anthia gives him a preview of her impressive flexibility. Nathan's mind is blown.
Although they both enjoyed their afternoon together, Antje predicts the pair might work better as friends.
As usual, Antje called it right: a double miss.
Both Anthia and Nathan know that Nathan still has work to do on himself before entering a serious relationship.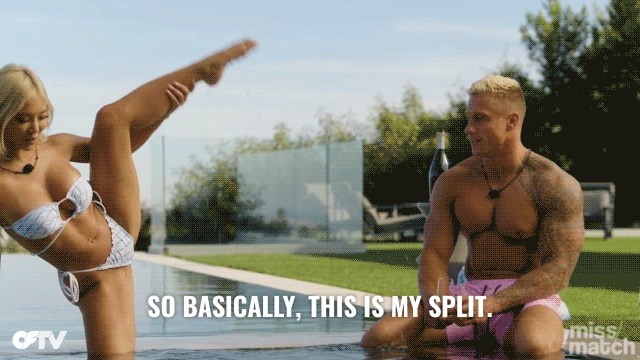 S2E6: Sebi Barraza/Chy Burden

Air Date: Sept. 15, 2023 | Watch on OFTV
Temptation Island star and "life of the party" Sebi Barraza is looking for someone to match his energy. And when it comes to dating, Sebi falls fast; so his challenge will be to keep his feelings in check as he gets to know his potential match.
Chy Burden, best known for her funny dances on social media, is also prone to falling fast. Hopefully for these romantics, they're able to find a spark.
As their date begins, a blindfolded Sebi and Chy bond instantly over their love of animals. And when the blindfolds come off, Sebi is wowed by Chy's eyes.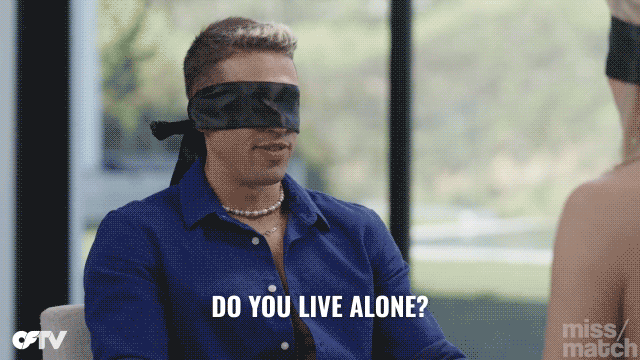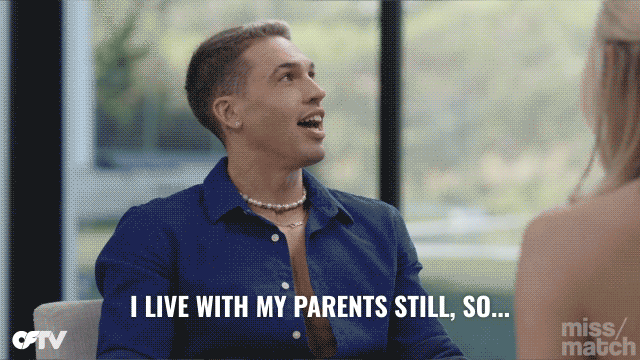 Next, Antje runs the two strangers through a Pop Quiz. While both Sebi and Chy care deeply for their families, Chy is a bit surprised to learn that Sebi still lives with his mom in Miami.
But despite that revelation, Chy and Sebi end up ticking a lot of relationship boxes for one another.
Afterwards, Antje introduces them to the game Pictures of You, where they are tasked with describing one another from memory to a caricature artist.
Almost immediately, it's clear that Chy is much more perceptive than Sebi, as his descriptions of Chy make her wonder if he even remembers what she looks like.
Sebi and Chy head on over to the jacuzzi for the Deeper Dive, but the conversation ends up being a mixed bag. There are moments where they seem perfect for each other, and moments where they seem like a complete miss.
For example, Chy and Sebi realize they have extremely different lifestyles with Chy often waking up at 5:30am most days compared to Sebi, who rolls out of bed around noon.
Despite their shared love of pasta, Antje predicts that the date will end in a miss. But shockingly, Sebi and Chy both choose match, and Antje totally loses it.
Chy and Sebi decide to spend their next date on the beach with their pets. Now, will that be on a beach in L.A. or Miami?
S2E7: Joey Joy/Molly Eskam

Air Date: Sept. 22, 2023 | Watch on OFTV
Former Too Hot To Handle star Joey Joy is open to whatever his Miss/Match experience brings, as long as she can match his laid-back attitude.
Model, YouTuber, and type A personality Molly Eskam is looking for an easy-going, but serious guy who can save her from the L.A. dating scene.
Despite being blindfolded, Molly somehow notices Joey's chivalry the instant she sits down. That kind of thing is a huge green flag for Molly.
But when the blindfolds come off, Molly is concerned that Joey might be a little too young and inexperienced for her.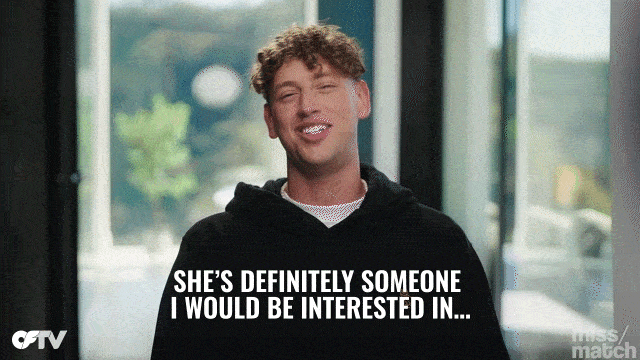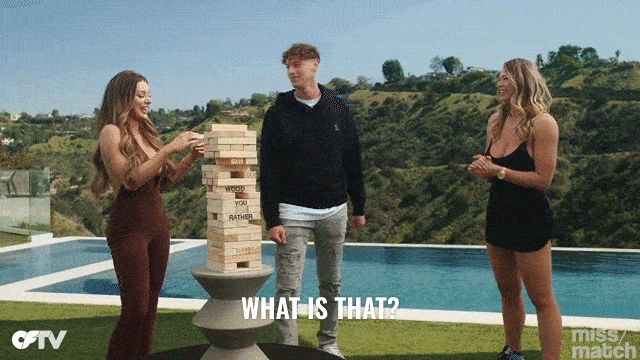 During the Pop Quiz, Joey brags to Molly that he washes his sheets every two week (maybe more like every three weeks).
Afterwards, Antje brings Joey and Molly outside for a round of Wood You Rather? They'll need to reveal some deeply personal information to each other as they move through the massive game of Jenga.
Molly isn't thrilled to find out Joey is more of a "hanky panky" man than someone who "makes love".
It gets even worse when Joey proves to be a sore loser after knocking over the Jenga tower.
If Joey wants to turn things around with Molly, it will have to be during the Deeper Dive. Unfortunately, Joey admits right off the bat that he's lacking the organizational skills Molly's looking for in a partner.
By the end of the date, Antje predicts that Joey will be a miss for Molly, but Molly will be a match for Joey. This time, Antje's predictions are right on the money.
Despite all Joey's red flags, Molly claims her decision was based on the fact that Joey lives in Miami (she lives in L.A.).
At least Joey's got plenty of experience on dating shows.