Reality TV's Chloe Sims is practically a household name. Unfortunately, that's only true in the U.K. That's why Chloe and her brother Charlie have convinced their siblings Demi and Frankie, and Charlie's fiancé Georgia Shults, to join them for a month in Los Angeles so they can all chase their American dreams together and establish themselves on a global scale. But breaking into Hollywood while learning to navigate life in a new country is much easier said than done. Will the family be able to stay focused and rise to the top together? You're about to find out as we recap House of Sims season one.
Warning: spoilers ahead.
We meet the Sims family in their natural habitat, the county of Essex in England. There, they live in their own posh flats and houses and lead their own individual lives.
They're aware that all of that is about to change when they reach America, but it's clear that the reality of the situation hasn't fully set in yet.
The move to America (and OFTV) is particularly risky for Chloe, who had been the longest-running cast member on the iconic U.K. reality show The Only Way is Essex. But Chloe seems to understand that taking big risks is the only way to get to where she wants to go in her career.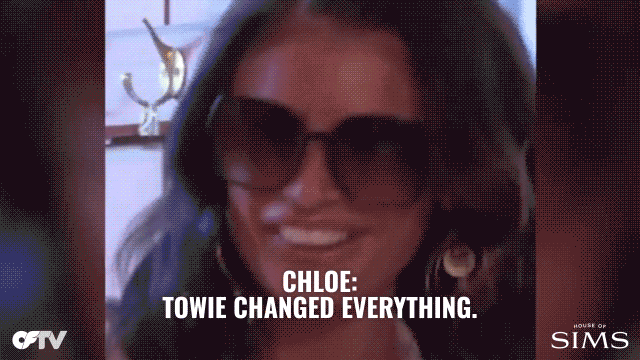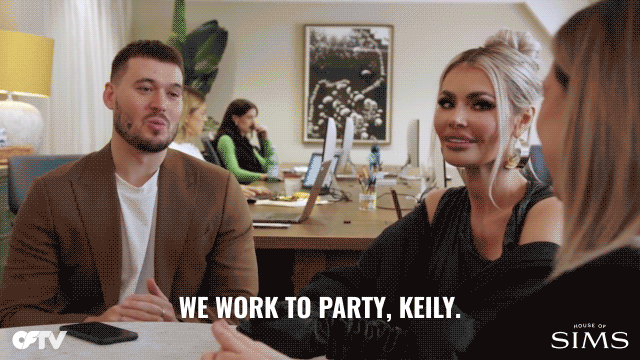 While Chloe is typically the center of attention in the media and at home, Charlie and Georgia work behind the scenes to keep the Sims' empire together. Charlie tirelessly juggles his career as a media agent and managing his sisters' careers.
One thing's for sure– Charlie is just as determined for the family's L.A. experiment to work out as Chloe is.
With their departure day quickly approaching, Charlie and Chloe head to OnlyFans HQ to plan the Sims' grand American debut– a proper English tea party with a guest list packed with influencers and members of the press.
Demi is an emerging fashion designer and hopes to launch her own apparel brand in California. Meanwhile, Frankieis less concerned with her career. Instead, Frankie is hoping to find some romance.
Georgia not only helps Charlie manage the sisters' careers, but doubles as the family's resident makeup artist. Charlie and Georgia's partnership goes beyond their own relationship; it's the glue that holds the family together.
However, tensions mount at Charlie and Georgia's place as Charlie frets over the sisters' lack of progress in securing their American visas. Any delays at this point could be catastrophic for the family's Hollywood debut.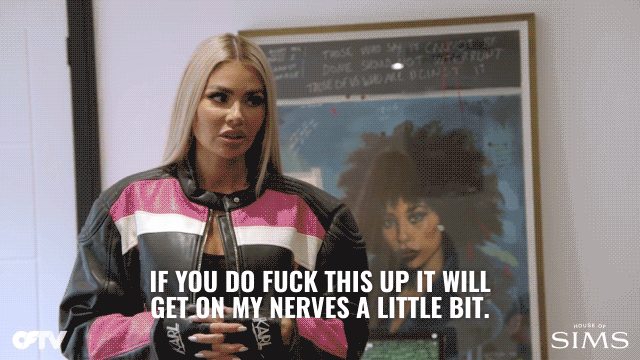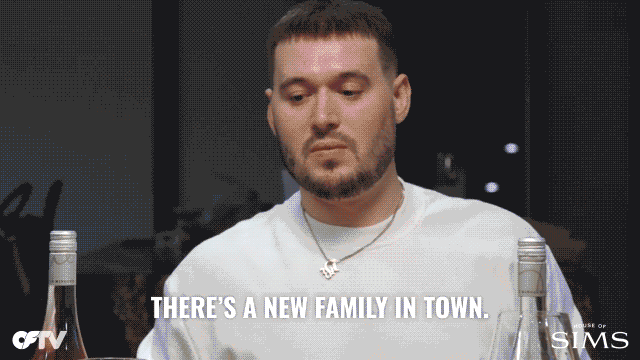 Amid the commotion of moving and visa preparations, Chloe pranks Demi and Frankie by saying that one of them will be stuck flying coach. And if that wasn't bad enough, the two might have to share a bedroom in L.A.
But once Demi and Frankie realize they've been had, they can't help but laugh at themselves and the entire situation.
On the night before the big move, the House of Sims stars gather at Charlie and Georgia's for one final meal in Essex. The Sims get word that their visa situation is squared away and the entire family is cleared for departure.
Not ten minutes after getting off the plane at LAX, the Sims are greeted by a paparazzo. With any luck, they'll need to start getting used to that much press attention.
On the ride to their Hollywood Hills home, the Sims can't help but marvel at L.A.'s massiveness.
And they haven't even seen the house yet.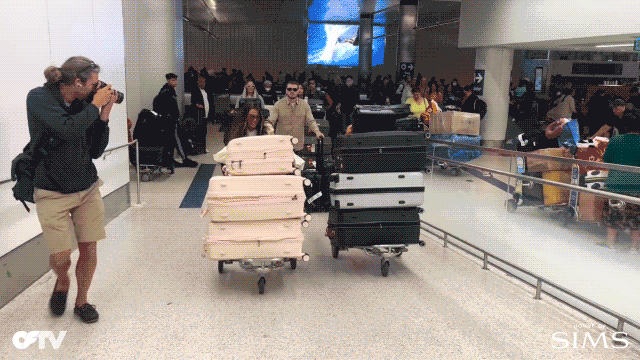 On the drive from LAX to their home, a car full of girls mistakes Chloe for Kim Kardashian. For a family looking to leave their mark on American reality TV, that's about as great of a start as you can get.
When the Sims arrive at their house in the hills, they marvel at the American-sized fridge, unlimited orange juice, and the In-N-Out burgers that the producers had waiting for them. Their honeymoon period with America is starting off strong, and they celebrate with some quality family time.
And then the jet lag hits Chloe and Charlie. Hard.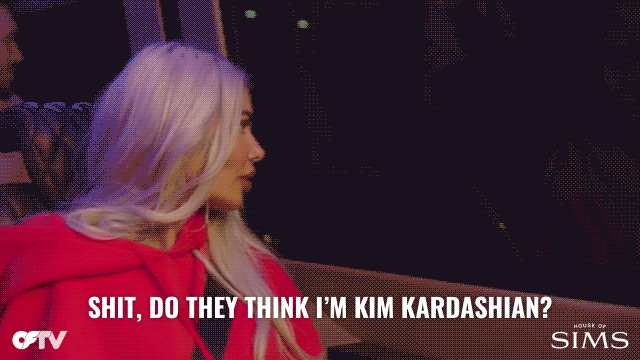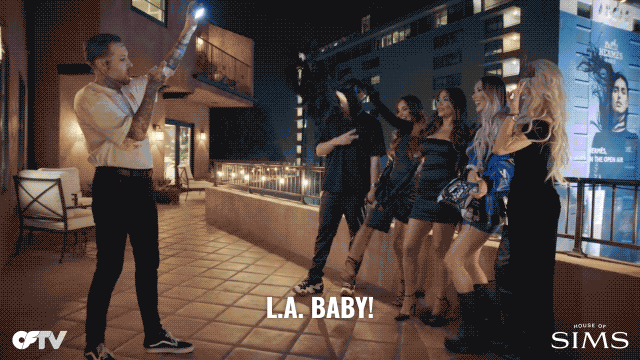 While Chloe, Charlie, and Georgia relax at the house, Demi and Frankie go off exploring. After some initial fascination with L.A.'s crosswalks, the sisters turn their attention towards how good-looking everyone in Hollywood is.
Back at the house, Chloe receives an invitation to a star-studded Halloween party later in the evening. But she becomes nervous when it's unclear whether or not she can bring her siblings along.
Chloe opens a bottle of wine and decides to bring her family along to the Halloween party anyway.
The next morning, Chloe begins planning the authentic A-list tea party event that will help put the family on the map. But Chloe quickly realizes she has overestimated the availability of super-specific tea party essentials like finger sandwiches and Victoria sponge cake in southern California.
Back at the house, Charlie falls even deeper in love with American fast food and has ordered in more burgers.
Meanwhile, Frankie drops by a gym to meet with a personal trainer and is shocked when the consultation turns into a full-blown workout.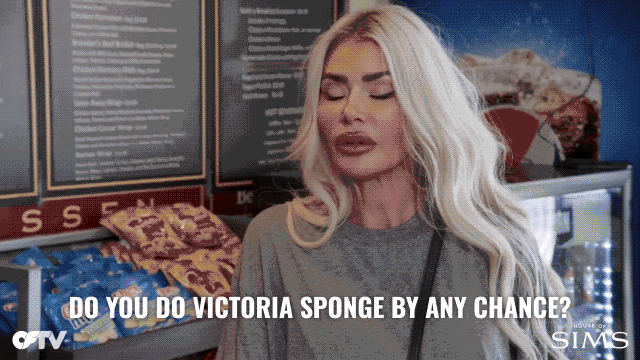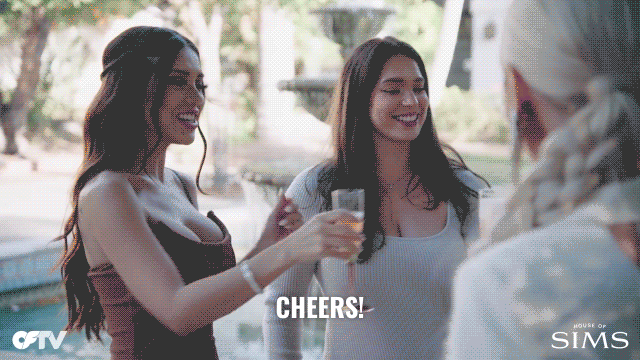 When the day of the tea party arrives, the Sims have managed to get their hands on a Victoria sponge cake. The catch is, it was homemade by Frankie and didn't turn out as picture-perfect as Chloe expected.
The guests start to pour in and, after a charming (if not awkward) speech from Charlie, the party reaches full swing. The Sims spend the rest of the afternoon in full networking mode with some of the most prominent influencers in L.A.
All in all, the tea party was a massive success for the Sims and as the evening winds down, they celebrate the win.
It's Chloe's birthday, and her old TOWIE castmate Vas J Morgan is throwing a party for her at his place. Although Chloe isn't thrilled about becoming a year older, the entire family is excited to hang out with someone who's successfully made the Essex-to-Hollywood transition.
Chloe decides to seek some spiritual guidance and visits Sal Biadora for a tarot card reading. Fortunately, Chloe's cards predict fame and happiness in Hollywood.
But Sal warns Chloe that she must remain open-minded and communicative, and to take some time for herself.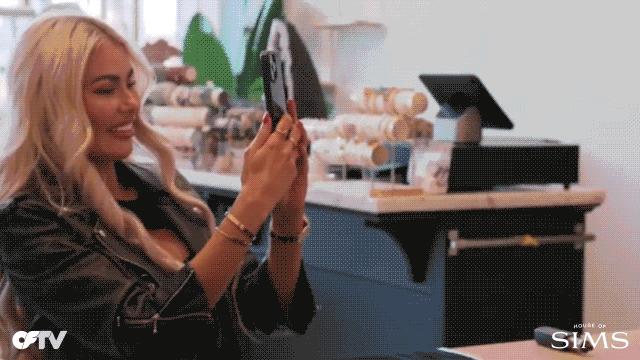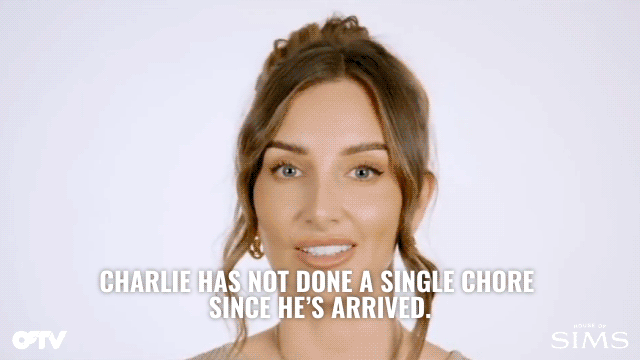 Back at the house, Demi literally squeezes her way between Charlie and Georgia; the couple starts to see the downsides of this new L.A. living arrangement.
But when Charlie starts complaining about Demi's messy room, Georgia points out that not a single Sim has done a chore. Not even Charlie.
With all the partying that's been going on since arriving in Hollywood, Charlie worries about the family's lack of focus. But that conversation will have to wait until after Chloe's chic birthday party at Vas J Morgan's house.
The next evening, Chloe and Demi have a sisters outing while Charlie and Georgia take an overdue date night. Frankie also has a date of her own– ax throwing with a guy she's been set up with.
It's clear that Georgia is getting impatient after years of being engaged without any real wedding plans. Charlie assures her he's got a plan for everything, but now he's concerned with his sisters' lack of focus.
In the morning, Charlie and Georgia wake the sisters up early with an announcement. They're headed to the wilderness for the night to remember why they came to L.A.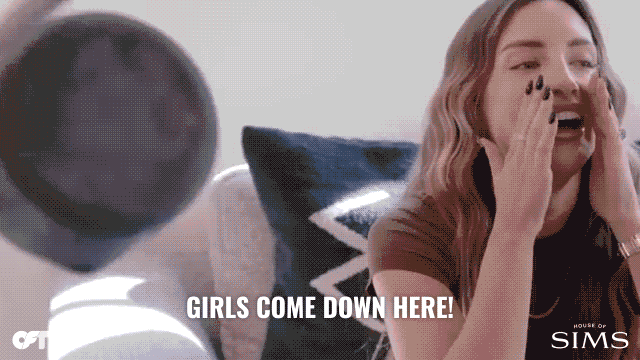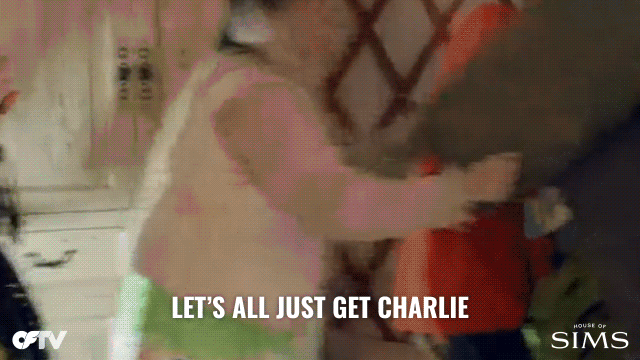 Drama starts the instant the family arrives at the campsite. The sisters are furious to discover that instead of WiFi, plumbing, and beds, their yurt has snakes, bugs, and dirt.
Even Georgia is willing to let Charlie take the fall if things get bad. But before long, Sal (tarot reader) arrives to help.
After a long afternoon of meditation and affirmation exercises, the Sims are back to being a loving family dedicated to making their dreams come true.
To celebrate their breakthrough, the Sims end the day with a bonfire, some s'mores, and by attacking Charlie with pillows.
Safely back in the Hollywood Hills, the Sims kick into high gear. Chloe plans to create more social content, Demi is getting serious about launching her fashion line, and Frankie has some job interviews lined up.
For a kick of extra motivation, they accept an invitation to walk the red carpet for the taping of The OnlyFans Roast of Whitney Cummings. It seems like Charlie's wilderness plan is finally paying off.
At the red carpet, Chloe chats with Ryan Pownall who invites her to appear on his podcast, Pillow Talk. The Sims even manage  to rub shoulders (and swap anti-aging secrets) with Whitney Cummings herself.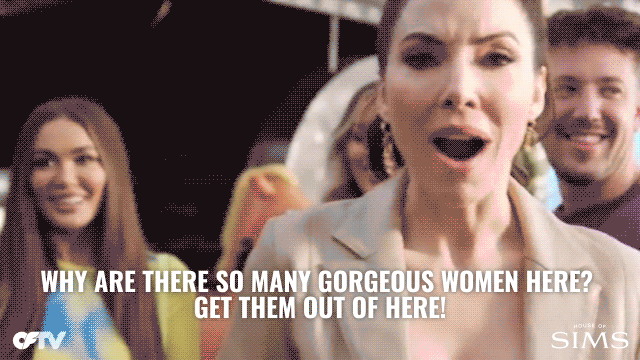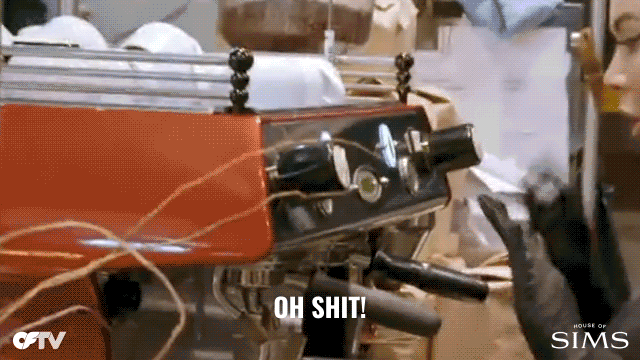 Buzzing from the red carpet, Chloe calls in celebrity photographer Prince for a stunning lingerie photoshoot over Sunset Boulevard.
Meanwhile, Charlie has a massive development of his own to announce: he's managed to land the entire family a meeting with UTA, one of the most elite talent agencies in the world.
Unfortunately, Charlie will have to wait a little longer to break the news to Frankie, who is struggling through a trial shift as a barista. After pressing the wrong buttons on both the espresso machine and her manager, Frankie realizes the barista life isn't for her.
Charlie brings the family together to knuckle down and prepare for their big meeting with UTA. he hammers home how this opportunity has the potential to establish the family as serious figures in American entertainment.
That's good news for Frankie, who is not enjoying her trial shift as a dog-walker.
Shortly after getting everyone's hopes up, Charlie learns that UTA has postponed the meeting. Charlie is devastated by the setback, but Chloe and the sisters work together to cheer Charlie up and keep him thinking about the future.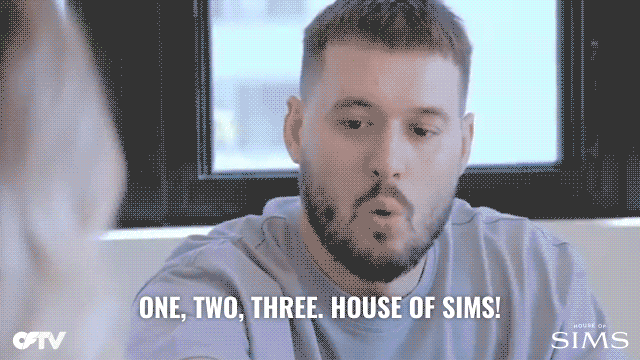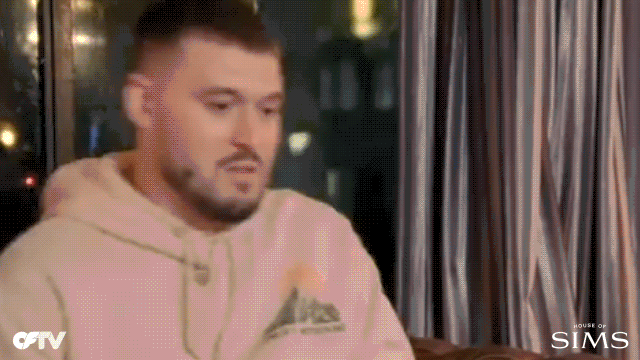 With a company name in place, Racing Against Humans, Demi and Charlie begin planning a huge L.A. launch party.
Prince arrives at the house for Chloe's lingerie shoot, and at one point, she climbs up on a rickety rooftop so Prince can get the perfect shot. The risk pays off, and the shots are dazzling.
After a few drinks at The Bourbon Room, Charlie starts to see the postponed UTA meeting as an opportunity to prepare even more.
The Sims toast themselves, and break out in an impromptu sit-down dance party.
The UTA meeting is back on, and the Sims are about to head into the biggest opportunity of their careers. After a frenzied morning of selecting the right outfits and last-minute pointers from Charlie, the Sims arrive at the offices looking and feeling great.
Afterwards, the family gathers at a restaurant to debrief. Chloe, Demi, and Frankie are very enthusiastic that the meeting went better than they expected. Georgia admits to feeling out of place since she still isn't a true Sims yet, though Charlie promises she will be soon.
Frankie insists on mimosas to celebrate.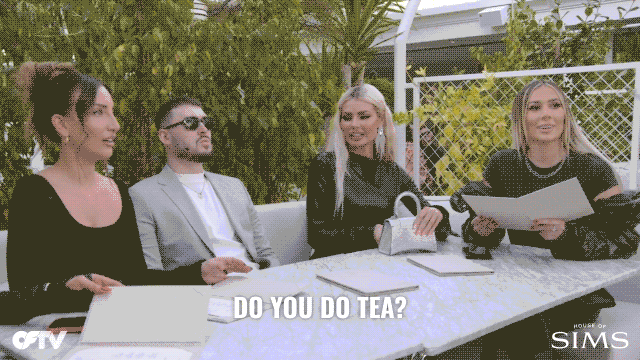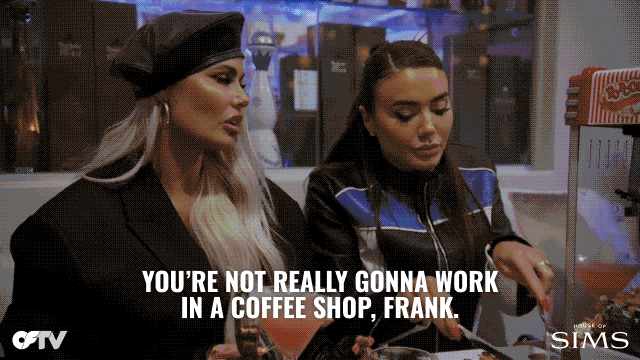 Georgia turns up the pressure on Charlie to set a date for their wedding. The problem is, Charlie and Georgia can't see eye to eye yet on the type of wedding they want.
Meanwhile, Chloe, Demi, and Frankie enjoy a fun night out to discuss the launch of Running Against Humans. Chloe suggests that Frankie should take point on planning the launch party.
Finally, Frankie has a job that makes sense for her.
Back at home, Charlie deliberates on the family's housing situation. One option is to lease another house in L.A., but that's much more expensive than returning to England.
Frankie tearfully confesses she misses her family in Essex and has major doubts about her future in L.A. Chloe assures her that while the future is unknown and scary, it's nothing the Sims can't handle together as a family.
Chloe and Charlie go out for drinks to discuss Charlie's wedding date dilemma. Chloe's advice is straight-forward: set a date ASAP to show Georgia how committed he is.
With that out of the way, Chloe and Charlie start up a game of beer pong before the rest of the family crashes their party.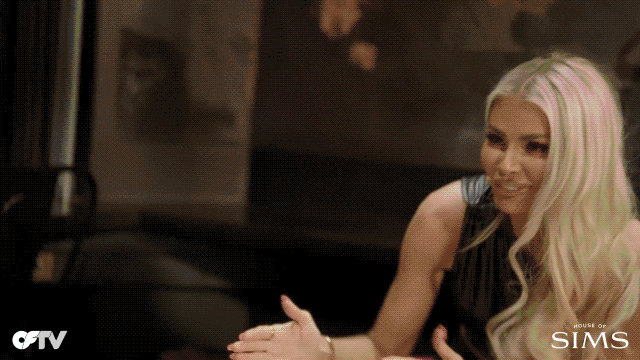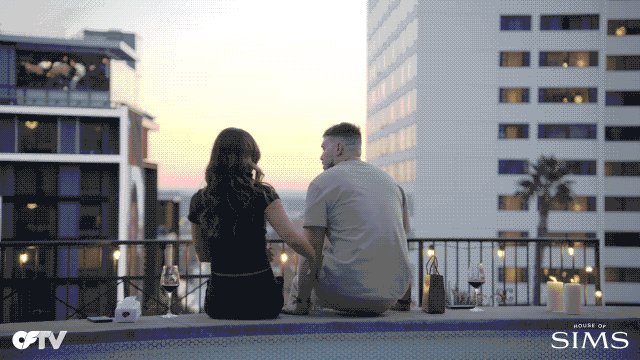 After an early pilates class together, Charlie lets Georgia drag him to a relationship numerologist. While nobody can say for sure what the numerologist was talking about, all signs point to Charlie and Georgia belonging together.
Meanwhile, Chloe takes Ryan Pownall up on his offer for her to appear on Pillow Talk. Though she's a bit timid to discuss her sex life at first, she ultimately has a blast.
Before leaving for Demi's Running Against Humans launch party, Charlie sets up a beautiful surprise for Georgia on the terrace of the house: another engagement ring that comes with the promise of a wedding… soon.
Back at the event space, Frankie has thought of every possible detail for the Racing Against Humans launch– from the lighting, food, DJ, and models dressed like aliens, to an Area 51-inspired outdoor bar.
Demi is thrilled with Frankie's hard work of transforming a warehouse into the inside of a spaceship. But Demi will only find out if the event is a success after the guests arrive.
And when the guests do start to turn up, there's no doubt that the launch was a raging success. Frankie takes the microphone to deliver a heartfelt speech about how grateful the Sims are for the support of their new L.A. community.